DS 3: Practical information
DS 3 2016-2022 Owners Manual
The system may suggest an inappropriate parking space (parking prohibited, work in progress with damaged road surface, location alongside a ditch, etc...
Petrol fuels conforming to the EN228 standard containing up to 5% and 10% ethanol respectively. Diesel fuels conforming to the EN590, EN16734 and EN16709 standards and containing up to 7%, 10%, 20% and 30% fatty acid methyl ester respectively...
Other information:
Anti-slip regulation (or traction control) optimises traction by using engine braking and by applying the brakes on the driving wheels to avoid one or more wheels spinning. It also enhances the vehicle's directional stability. If there is a difference between the vehicle's trajectory and the path desired by the driver, the dynamic stability control system automatically uses engine braking..
The system prevents a rear door from being opened using its interior handle. The red control is located on the edge of each rear door (marked by a label). Locking/Unlocking To lock, turn the red control as far as it will go using the integral key: To the right on the left-hand rear door. To the left on the right-hand rear door. To unlock, turn it in the opposite direction. Do not..
Categories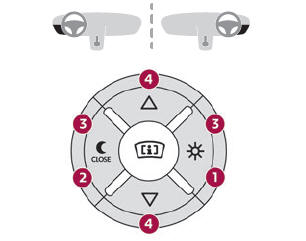 Switching on Switching off (long press) Brightness adjustment Display height adjustment
Copyright © 2022 www.ds3manuals.com