DS 3: Charging system (Electric) / Charging cables, sockets and chargers
DS 3 2016-2023 Owners Manual
The charging cable supplied with the vehicle (depending on version) is compatible with the electrical systems in the country of sale. When travelling abroad, check the compatibility of local electrical systems with the charging cable.
A full range of charging cables is available from your dealer.
Contact a dealer or a qualified workshop for more information and to obtain suitable charging cables.
Standard charging, mode 2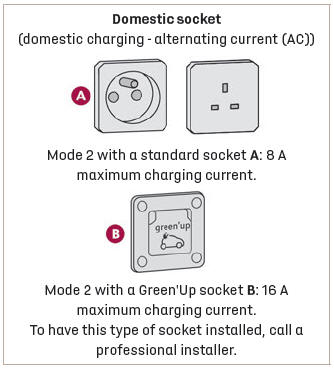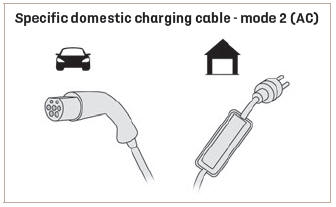 Specific domestic charging cable (mode 2)
You must not damage the cable. In the event of damage, do not use it and contact a dealer or a qualified workshop to replace it.
Control unit (mode 2)

POWER
Green: electrical connection established; charging can begin.

CHARGE
Flashing green: charging in progress or temperature pre-conditioning activated.
Fixed green: charging complete.

FAULT
Red: fault; charging not permitted or must be stopped immediately. Check that everything is connected correctly and that the electrical system is not faulty.
If the indicator lamp does not go off, contact a dealer or a qualified workshop.
Upon plugging the charging cable into a domestic socket, all of the indicator lamps come on briefly. If no indicator lamps come on, check the domestic socket's circuit-breaker:
If the circuit-breaker has tripped, contact a professional to check that the electrical system is compatible and/or carry out any necessary repairs.
If the circuit-breaker has not tripped, stop using the charging cable and contact a dealer or a qualified workshop.
Control unit label - Recommendations

Refer to the handbook before use.

Incorrect use of this charging cable may result in fire, property damage and serious injury or death by electrocution!
Always use a correctly earthed power socket, protected by a 30 mA residual current device.
Always use an electrical socket protected by a circuit-breaker appropriate for the electrical circuit's current rating.
The weight of the control unit must not be borne by the electrical socket, plug and cables.
Never use this charging cable if it is defective or in any way damaged.
Never attempt to repair or open this charging cable. It contains no repairable parts - replace the charging cable if it is damaged.
Never immerse this charging cable in water.
Never use this charging cable with an extension cable, a multi-plug socket, a conversion adaptor or on a damaged electrical socket.
Do not unplug the plug from the wall as a means of stopping charging.
Immediately stop charging, by locking and then unlocking the vehicle using the remote control key, if the charging cable or wall socket feel burning hot to the touch.
This charging cable includes components liable to cause electrical arcing or sparks. Do not expose to flammable vapours.
Only use this charging cable with DS AUTOMOBILES vehicles.
Never plug the cable into the wall socket (or unplug it) with wet hands.
Do not force the connector if it is locked into the vehicle.
Control unit label - State of indicator lamps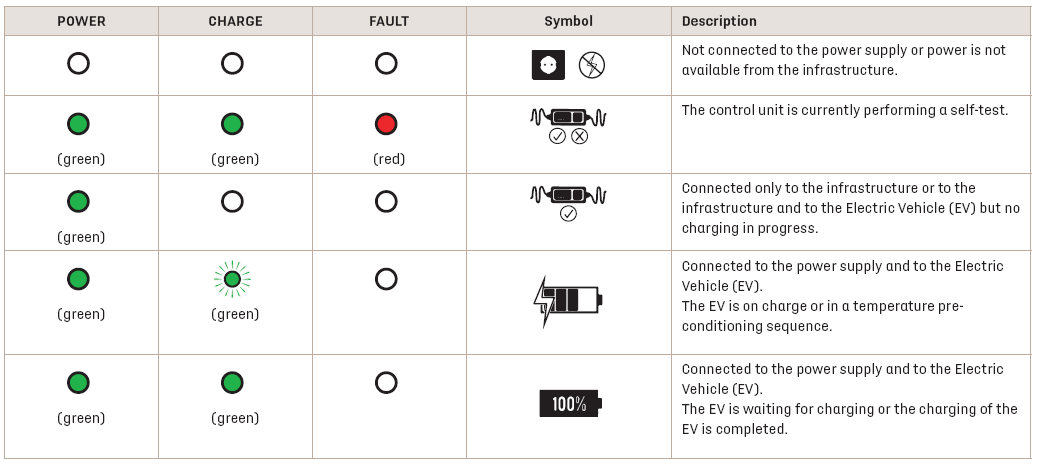 Manual reset procedure
The control unit can be reset by simultaneously disconnecting the charging connector and the wall socket.
Then, reconnect the wall socket first. For more information, refer to the handbook.
Accelerated charging, mode 3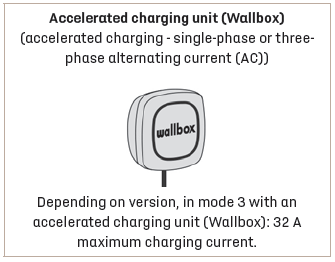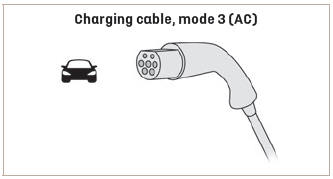 Accelerated charging unit (Wallbox) Do not disassemble or modify the charging unit - risk of electrocution and/or fire!
Refer to the charging unit manufacturer's user manual for the operating instructions.
Fast charging, mode 4