DS 3: Access / Central locking
DS 3 2016-2023 Owners Manual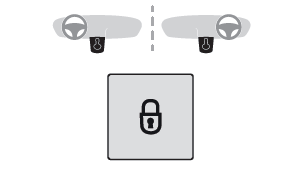 Manual
Press this button to lock/unlock the vehicle (doors and boot) from inside the vehicle.
The indicator lamp comes on to confirm the central locking of the vehicle.

Central locking does not take place if any of the doors are open.

To unfold the exterior handles, press the button once when the vehicle is locked or twice when it is unlocked.

When locking/deadlocking from the outside
When the vehicle is locked or deadlocked from the outside, the indicator lamp flashes and the button is deactivated.
After normal locking, pull one of the interior door controls to unlock the vehicle.
After deadlocking, you must use the remote control, the "Keyless Entry and Starting" system or the built-in key to unlock the vehicle.
Automatic (anti-intrusion security)
The doors and boot lock automatically while driving (speed above 6 mph (10 km/h)). To deactivate/reactivate this function (activated by default):
Press the button until a confirmation message appears.

Transporting long or voluminous objects
Press the central locking control to drive with the boot open and the doors locked. Otherwise, every time the speed of the vehicle exceeds 6 mph (10 km/h), the sound of the locks rebounding will be heard and an alert will be displayed.
Advice

Remote control
The remote control is a sensitive, highfrequency device; avoid handling it in your pocket, due to the risk of unintentionally unlocking the vehicle.
Avoid pressing the remote control buttons while out of range of the vehicle, due to the risk of rendering the remote control inoperative. It would then be necessary to reset it.

Anti-theft protection
Do not modify the electronic vehicle immobiliser, as this might result in malfunctions.

Locking the vehicle
Driving with the doors locked could make it more difficult for the emergency services to enter the passenger compartment in an emergency.
As a safety precaution, take the electronic key with you when leaving the vehicle, even for a short time.

Purchasing a second-hand vehicle
Have the key codes memorised by a dealer, to ensure that the keys in your possession are the only ones able to start the vehicle.