DS 3: Safety / Child lock
DS 3 2016-2022 Owners Manual
The system prevents a rear door from being opened using its interior handle.
The red control is located on the edge of each rear door (marked by a label).
Locking/Unlocking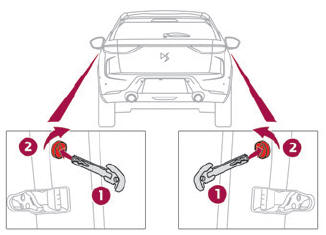 To lock, turn the red control as far as it will go using the integral key:

To the right on the left-hand rear door.
To the left on the right-hand rear door.

To unlock, turn it in the opposite direction.

Do not confuse the child lock control, which is red, with the back-up locking control, which is black.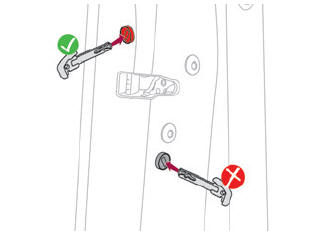 Electric child lock
This control prevents operation of the rear electric windows and, depending on version, the opening of the rear doors using their interior handles.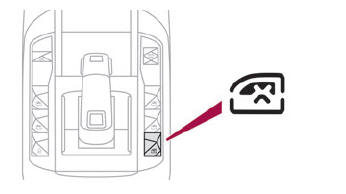 Activation/Deactivation

With the ignition on, press this button to activate/deactivate the child lock.
When the indicator lamp is on, the child lock is activated.

With the child lock activated, it is still possible to operate the rear electric windows from the driver's controls.

This system is independent and in no circumstances does it take the place of the central locking control.
Check the status of the child lock each time you switch on the ignition.
Always keep the electronic key with you when leaving the vehicle, even for a short time.
In the event of a serious impact, the electric child lock is switched off automatically to permit the exit of the rear passengers.
i-Size child seats i-Size child seats have two latches that are anchored to the two rings A. These i-Size child seats also have: either an upper strap that is attached to ring B...
Other information:
Press Navigation to display the main page. Press this button to display the list of services. Select "View map". Select "Weather". Press this button to display basic information. Press this button to display detailed weather information. The temperature displayed at 6 a.m. will be the maximum temperature for the day. The temperature displayed at 6 p.m. will be the minimum temperat..
The electrical traction system, which operates at a voltage of approximately 400 V, is identified by orange cables, and its components are marked with this symbol: An electric vehicle's power train can become hot during use and after switching off the ignition. Observe the warning messages shown on labels, particularly inside the flap. All work on or modifications to the vehicle's el..
Categories
These illustrations and descriptions are provided for information only, as the locations of certain elements may vary depending on the version or trim level.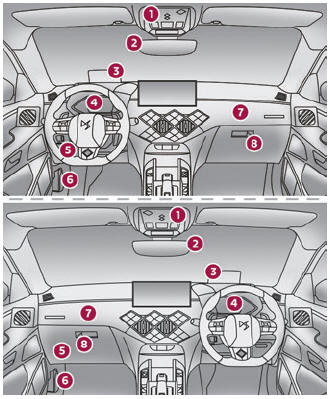 Front courtesy/map reading lamps Emergency and assistance call buttons Warning lamp display for seat belts and front passenger airbag Interior rear view mirror Head-up display Digital instrument panel Fusebox Bonnet release Front passenger airbag Glove box