DS 3: Head-up display / Selector
DS 3 2016-2023 Owners Manual
Switching on
Switching off (long press)
Brightness adjustment
Display height adjustment
Activation/Deactivation
With the engine running, press button 1 to activate the system and deploy the projection blade.
Press and hold button 2 to deactivate the system and retract the projection blade. The state of the system is saved when the engine is switched off and restored on restarting.
Adjusting the height
With the engine running, adjust the display to the desired height using the buttons 4:

up to move the display up,
down to move the display down.
Brightness adjustment
With the engine running, adjust the brightness of the information display using the buttons 3:

on the "sun" to increase the brightness,
on the "moon" to decrease the brightness.

When stationary or while driving, no objects should be placed around the projection blade (or in its recess) so as not to impede its movement and correct operation.

In certain extreme weather conditions (rain and/or snow, bright sunshine, etc.), the head-up display may not be legible or may suffer temporary interference.
To clean the projection blade, use a clean, soft cloth (such as a spectacles cloth or microfibre cloth). Do not use a dry or abrasive cloth, or detergent or solvent products, due to the risk of scratching the projection blade or damaging the non-reflective coating.
Categories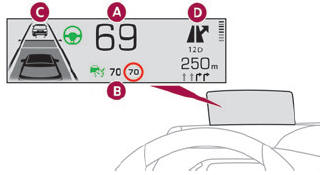 Once the system has been activated, the following information is grouped together in the head-up display:
The speed of the vehicle. Cruise control/speed limiter information and, if the vehicle is so equipped, the Road signs recognition function. If the vehicle is so equipped, inter-vehicle distance information, lane departure warning system information, lane positioning assist information, and automatic emergency braking alerts. If the vehicle is so equipped, navigation information.