DS 3: Instruments / Warning and indicator lamps
DS 3 2016-2022 Owners Manual
Displayed as symbols, the warning and indicator lamps inform the driver of the occurrence of a malfunction (warning lamps) or of the operating status of a system (operation or deactivation indicator lamps). Certain lamps light up in two ways (fixed or flashing) and/or in several colours.
Associated warnings
The illumination of a lamp may be accompanied by an audible signal and/or a message displayed in a screen.
Relating the type of alert to the operating status of the vehicle allows you to determine whether the situation is normal or whether a fault has occurred: refer to the description of each lamp for further information.
When the ignition is switched on
Certain red or orange warning lamps come on for a few seconds when the ignition is switched on.
These warning lamps should go off as soon as the engine is started.
For more information on a system or a function, refer to the corresponding section.
Categories
To access the front screw thread: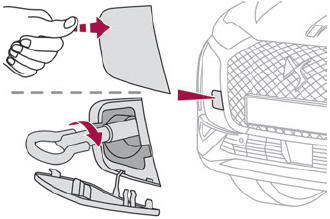 Unclip the cover by pressing at its top lefthand corner. Release the cover.