DS 3: Instruments / Warning and indicator lamps
DS 3 2016-2023 Owners Manual
Displayed as symbols, the warning and indicator lamps inform the driver of the occurrence of a malfunction (warning lamps) or of the operating status of a system (operation or deactivation indicator lamps). Certain lamps light up in two ways (fixed or flashing) and/or in several colours.
Associated warnings
The illumination of a lamp may be accompanied by an audible signal and/or a message displayed in a screen.
Relating the type of alert to the operating status of the vehicle allows you to determine whether the situation is normal or whether a fault has occurred: refer to the description of each lamp for further information.
When the ignition is switched on
Certain red or orange warning lamps come on for a few seconds when the ignition is switched on.
These warning lamps should go off as soon as the engine is started.
For more information on a system or a function, refer to the corresponding section.
Switching on Switching off (long press) Brightness adjustment Display height adjustment Activation/Deactivation With the engine running, press button 1 to activate the system and deploy the projection blade...
If a red or orange warning lamp comes on, there may be fault which needs further investigation. If a lamp remains lit The references (1), (2) and (3) in the warning and indicator lamp description indicate whether you should contact a qualified professional in addition to the immediate recommended actions...
Other information:
Depending on version, the affected types of headlamps/lamps are: "DS MATRIX LED VISION" headlamps. Offset daytime running lamps. Direction indicator side repeaters. Side spotlamps. Full LED technology rear lamps. Third brake lamp. Number plate lamps...
Electric vehicles were developed in accordance with the guidelines on maximum electromagnetic fields issued by the International Commission on Non-Ionizing Radiation Protection (ICNIRP - 1998 Guidelines). Wearers of pacemakers or equivalent devices The electric vehicles have been developed in accordance with the guidelines on the maximum levels for electromagnetic fields issued by the Int..
Categories
To access the front screw thread: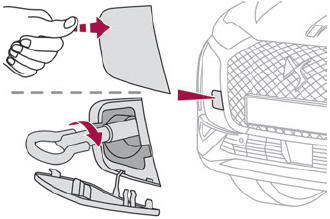 Unclip the cover by pressing at its top lefthand corner. Release the cover.