DS 3: Towing the vehicle / Towing your vehicle
DS 3 2016-2023 Owners Manual
To access the front screw thread: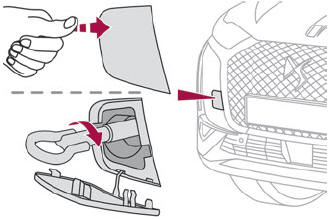 Unclip the cover by pressing at its top lefthand corner.
Release the cover.
To be towed:
Screw the towing eye in fully.
Install the towbar.
Put the gearbox into neutral.
In the event of a breakdown

Failure to observe this instruction could result in damage to certain components (braking, transmission, etc.) and to the absence of braking assistance the next time the engine is started.

Automatic gearbox
Never tow the vehicle with the driving wheels on the ground and the engine off.
Unlock the steering and release the parking brake.
Switch on the hazard warning lamps on both vehicles.
Move off gently, drive slowly and only for a short distance.
Categories
This digital instrument panel can be customised. Depending on the display mode selected, certain information is hidden or presented differently.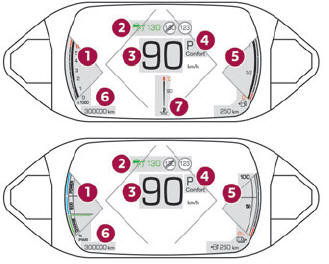 Rev counter (x 1000 rpm) (Petrol or Diesel)
Copyright © 2023 www.ds3manuals.com