DS 3: Safety / ISOFIX child seats
DS 3 2016-2022 Owners Manual
"ISOFIX" mountings
The seats shown below are fitted with ISOFIX compliant mountings: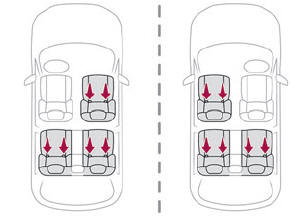 The mountings comprise three rings for each seat, indicated by a marking:
Two rings A, located between the vehicle seat backrest and cushion.
The 2 latches on ISOFIX child seats are secured to them.
One ring B, located behind the seat, called the TOP TETHER, for attaching seats fitted with an upper strap.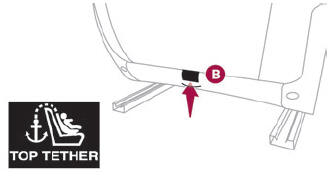 Front seat
Rear seats
This system prevents the child seat from tipping forwards in the event of a front impact.
This ISOFIX mounting system provides fast, reliable and safe fitting of the child seat in the vehicle.
To secure the child seat to the TOP TETHER:
Remove and stow the head restraint before installing the child seat on this seat (refit it once the child seat has been removed).
Pass the strap of the child seat behind the seat backrest, centring it between the openings for the head restraint rods.
Secure the upper strap hook to ring B.
Tighten the upper strap.

When fitting an ISOFIX child seat to the left-hand rear seat of the bench seat, before fitting the seat, first move the centre rear seat belt towards the middle of the vehicle, so as to avoid the seat interfering with the operation of the seat belt.

An incorrectly installed child seat in a vehicle compromises the child's safety in the event of an accident.
Strictly observe the fitting instructions provided in the user guide supplied with the child seat.

For information about the options for fitting ISOFIX child seats in your vehicle, refer to the summary table.
Recommended ISOFIX child seats

Also consult the user guide from the child seat's manufacturer to find out how to install and remove the seat.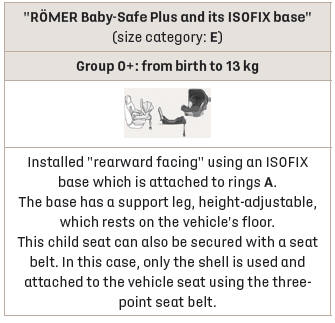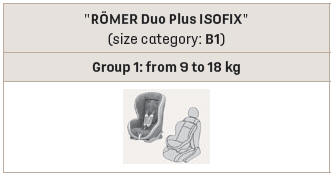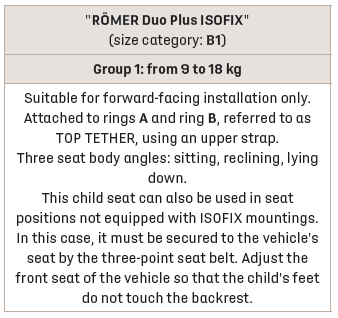 i-Size child seats i-Size child seats have two latches that are anchored to the two rings A. These i-Size child seats also have: either an upper strap that is attached to ring B...
Other information:
For more information, refer to the General recommendations on the use of driving and manoeuvring aids. This system warns the driver of a potential danger posed by the presence of another vehicle (car, lorry, motorcycle) in the vehicle's blind spots (areas hidden from the driver's field of vision) using sensors located on the sides of the bumpers...
In addition to all the functions of the MyDS application that you can access from a smartphone, you can access the following functions: Battery charge management (Deferred charging). Temperature pre-conditioning management. Consultation of the state of charge and range of the vehicle...