DS 3: Overview / Electric motor
DS 3 2016-2023 Owners Manual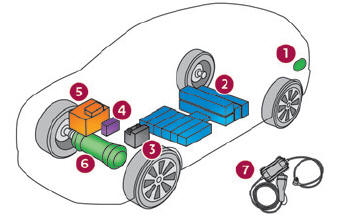 Charging connectors
Traction battery
Accessory battery
Heat pump
On-board charger
Electric motor
Charging cable
The charging connectors 1 enable 3 types of charging:
Domestic charging in mode 2 using a domestic socket and associated charging cable 7.
Accelerated charging in mode 3 using an accelerated charging unit (Wallbox).
Superfast charging in mode 4 using a fast public charger.
The 400 V traction battery 2 uses Lithium-Ion technology. It stores and supplies the energy required for the operation of the electric motor, air conditioning and heating. Its charge level is represented by an indicator and a reserve power warning lamp on the instrument panel.
The 12 V accessory battery 3 powers the vehicle's conventional electrical system. It is recharged automatically by the traction battery via the on-board charger.
The heat pump 4 provides passenger compartment heating and regulates traction battery and on-board charger cooling.
The on-board charger 5 manages the domestic charging (mode 2) and accelerated charging (mode 3) of the traction battery as well as the recharging of the 12 V accessory battery.
The electric motor 6 provides propulsion in accordance with the selected driving mode and driving conditions. It recovers energy during vehicle braking and deceleration phases.
These illustrations and descriptions are provided for information only, as the locations of certain elements may vary depending on the version or trim level...
Eco-driving refers to a range of everyday practices that allow the motorist to optimise the vehicle's energy consumption (fuel and/or electricity) and CO2 emissions...
Other information:
Front left seat belt warning lamp Front right seat belt warning lamp Rear left seat belt warning lamp Rear centre seat belt warning lamp Rear right seat belt warning lamp If the corresponding seat belt is not fastened or is unfastened, when the ignition is switched on, the seat belts warning lamp comes on in the instrument panel and the corresponding warning lamp (1 to 5) comes on in r..
For more information, refer to the General recommendations on the use of driving and manoeuvring aids. This system provides active parking assistance for vehicles fitted with the EAT8 automatic gearbox or a gear selector: it detects a free "parallel" or "bay" parking space and then operates the vehicle, parking it with no need for driver intervention. It also allows you to automatically ..
Categories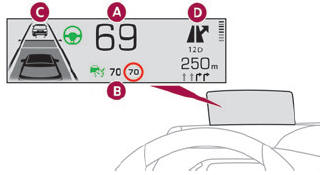 Once the system has been activated, the following information is grouped together in the head-up display:
The speed of the vehicle. Cruise control/speed limiter information and, if the vehicle is so equipped, the Road signs recognition function. If the vehicle is so equipped, inter-vehicle distance information, lane departure warning system information, lane positioning assist information, and automatic emergency braking alerts. If the vehicle is so equipped, navigation information.