DS 3: Driving / Driving recommendations
DS 3 2016-2023 Owners Manual
Observe the driving regulations and remain vigilant whatever the traffic conditions.
Monitor your environment and keep your hands on the wheel to be able to react to anything that may happen any time.
Drive smoothly, anticipate the need for braking and maintain a longer safety distance, especially in bad weather.
Stop the vehicle before performing operations that require sustained attention (e.g. settings).
During long trips, take a break every 2 hours.
Important!
Never leave the engine running in a closed space without sufficient ventilation.
Internal combustion engines emit toxic exhaust gases such as carbon monoxide.
Danger of poisoning and death!

In very severe wintry conditions (temperature below -23°C), let the engine run for 4 minutes before moving off, to ensure the correct operation and durability of the mechanical components of your vehicle (engine and gearbox).

Never drive with the parking brake applied. Risk of overheating and damaging the braking system!

Do not park the vehicle or leave the engine running on a flammable surface (e.g. dry grass, dead leaves).The vehicle exhaust system is very hot, even several minutes after the engine stops. Risk of fire!

Never leave a vehicle unattended with the engine running. If you have to leave your vehicle with the engine running, apply the parking brake and put the gearbox or drive selector into neutral or position N or P (depending on version).

Never leave children inside the vehicle unsupervised.
We strongly advise against driving on flooded roads, as this could cause serious damage to the engine or gearbox, as well as to your vehicle's electrical systems...
Other information:
Longitudinal Raise the control bar and slide the seat forwards or backwards. Release the control bar to lock the seat in position on one of the notches. Backrest angle Turn the knob to obtain the desired angle. Height Pull the control upwards to raise or push it downwards to lower, until you obtain the position required...
The following information groups together the answers to the most frequently asked questions concerning the system. Radio The reception quality of the tuned radio station gradually deteriorates or the station presets are not working (no sound, 87...
Categories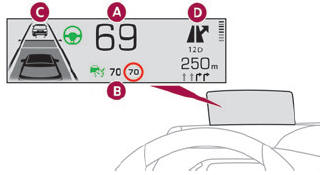 Once the system has been activated, the following information is grouped together in the head-up display:
The speed of the vehicle. Cruise control/speed limiter information and, if the vehicle is so equipped, the Road signs recognition function. If the vehicle is so equipped, inter-vehicle distance information, lane departure warning system information, lane positioning assist information, and automatic emergency braking alerts. If the vehicle is so equipped, navigation information.