DS 3: Parking sensors / Deactivation/Activation. Operating limits. Malfunction
DS 3 2016-2023 Owners Manual
Deactivation/Activation

The settings are changed via the Driving/Vehicle touch screen menu.
The system status is memorised when the ignition is switched off.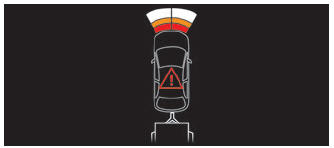 The rear parking sensors system will be deactivated automatically if a trailer or bicycle carrier is connected to a towing device installed in accordance with the manufacturer's recommendations.
In this case, the outline of a trailer is displayed at the rear of the image of the vehicle.
The parking sensors are deactivated while the Park Assist and DS PARK PILOT functions are measuring a space.
For more information on the Park Assist function or DS PARK PILOT function, refer to the corresponding section.

When starting the vehicle, the graphic and audible aids are only available after the touch screen has started up.
Operating limits
If the boot is heavily loaded, the vehicle may tilt, affecting distance measurements.
Malfunction

In the event of a malfunction when changing into reverse gear, this warning lamp lights up on the instrument panel, accompanied by the display of a message and an audible signal (short beep).
Have it checked by a dealer or a qualified workshop.