DS 3: Driving / Reversing camera
DS 3 2016-2023 Owners Manual

For more information, refer to the General recommendations on the use of driving and manoeuvring aids.
As soon as reverse gear is engaged with the engine running, this system displays views of your vehicle's close surroundings on the touch screen using a camera located at the rear of the vehicle.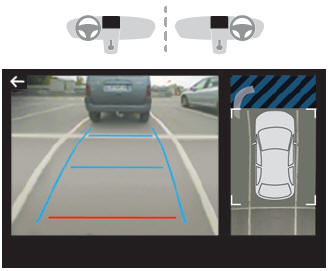 The screen is divided into two parts with a contextual view and a view from above the vehicle in its close surroundings.
The parking sensors supplement the information on the view from above the vehicle.
Various contextual views may be displayed:
Standard view.
180° view.
Zoom view.
AUTO mode is activated by default.
In this mode, the system chooses the best view to display (standard or zoom).
You can change the type of view at any time during a manoeuvre.
The system status is not saved when the ignition is switched off.