DS 3: Reversing camera / Standard view. Zoom view. 180° view
DS 3 2016-2023 Owners Manual
Standard view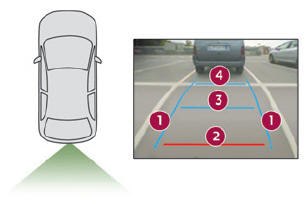 The area behind the vehicle is displayed on the screen.
The blue lines 1 represent the width of your vehicle, with the mirrors unfolded; their direction changes according to the position of the steering wheel.
The red line 2 represents a distance of 30 cm from the rear bumper; the two blue lines 3 and 4 represent 1 m and 2 m, respectively.
This view is available with AUTO mode or in the view selection menu.
Zoom view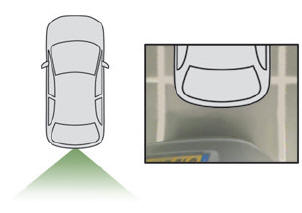 The camera records the vehicle's surroundings during the manoeuvre in order to create a view from above the rear of the vehicle in its near surroundings, allowing the vehicle to be manoeuvred around nearby obstacles.
This view is available with AUTO mode or in the view selection menu.

Obstacles may appear further away than they actually are.
It is important to monitor the sides of the vehicle during the manoeuvre, using the mirrors.
Parking sensors also provide additional information about the area around the vehicle.
180° view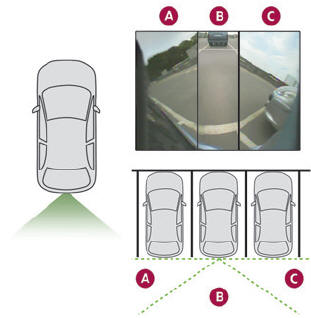 The 180° view facilitates reversing out of a parking space, making it possible to see the approach of vehicles, pedestrians and cyclists.
This view is not recommended for carrying out a complete manoeuvre.
It features 3 areas: left A, centre B and right C.
This view is only available via the view selection menu.
Categories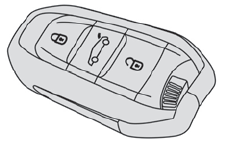 The remote control can be used for the following remote functions, depending on version:
Unlocking/Locking/Deadlocking the vehicle. Unlocking/Locking the boot. Folding/Unfolding the door mirrors. Folding/Unfolding the exterior door handles. Activating/Deactivating the alarm. Locating the vehicle. Closing the windows. Activating the vehicle's electronic immobiliser.