DS 3: Driving / Park Assist
DS 3 2016-2023 Owners Manual
For more information, refer to the General recommendations on the use of driving and manoeuvring aids.
This system provides active parking assistance: it detects a parking space and then steers in the appropriate direction to park in the space while the driver controls the driving direction, gear changes, acceleration and braking.
To help the driver monitor the manoeuvre, the system automatically triggers the display from the Reversing camera function and activates the parking sensors.
The system measures the available parking spaces and calculates the distances to obstacles using ultrasonic sensors built into the front and rear bumpers of the vehicle.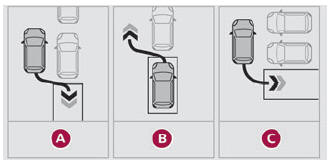 The system assists with the following manoeuvres:
Entering a "parallel" parking space
Leaving a "parallel" parking space
Entering a "bay" parking space
Categories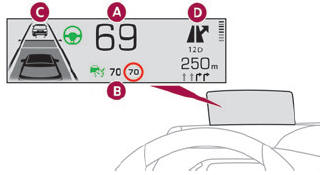 Once the system has been activated, the following information is grouped together in the head-up display:
The speed of the vehicle. Cruise control/speed limiter information and, if the vehicle is so equipped, the Road signs recognition function. If the vehicle is so equipped, inter-vehicle distance information, lane departure warning system information, lane positioning assist information, and automatic emergency braking alerts. If the vehicle is so equipped, navigation information.