DS 3: Parking sensors / Rear and Front parking sensors
DS 3 2016-2023 Owners Manual
Rear parking sensors
The system is switched on by engaging reverse gear, which is confirmed by an audible signal. The system is switched off when disengaging reverse gear.
Audible assistance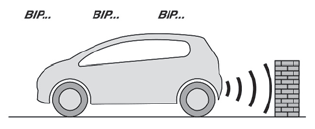 The system signals the presence of obstacles within the sensors' detection zone.

Depending on version, in the example shown, only the obstacles present in the shaded area will be signalled by the audible assistance.
The proximity information is given by an intermittent audible signal, the frequency of which increases as the vehicle approaches the obstacle.
When the distance between the vehicle and the obstacle becomes less than about thirty centimetres, the audible signal becomes continuous.
The sound emitted by the speaker (right or left) indicates the side on which the obstacle is located.

Adjusting the audible signal

Depending on version, with DS CONNECT RADIO or DS CONNECT NAV, pressing this button opens the window for adjusting the volume of the audible signal.
Visual assistance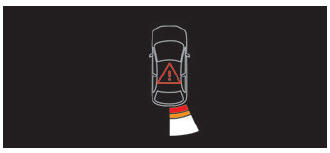 This supplements the audible signal by displaying bars on the screen that represent the distance between the obstacle and the vehicle (white: more distant, orange: close, red: very close).
When the obstacle is very close, the "Danger" symbol is displayed on the screen.
Front parking sensors
Supplementing the rear parking sensors, the front parking sensors are triggered when an obstacle is detected in front and the speed of the vehicle is still below 6 mph (10 km/h).
Front parking sensor operation is suspended if the vehicle stops for more than three seconds in forward gear, if an obstacle is no longer detected or the vehicle speed exceeds 6 mph (10 km/h).

The sound emitted by the speaker (front or rear) locates the obstacle relative to the vehicle, in front or behind it.