DS 3: Driving recommendations / On flooded roads
DS 3 2016-2023 Owners Manual
We strongly advise against driving on flooded roads, as this could cause serious damage to the engine or gearbox, as well as to your vehicle's electrical systems.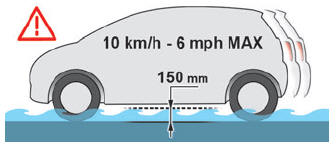 If the vehicle absolutely must drive through a flooded section of road:
Check that the depth of the water does not exceed 15 cm, taking account of waves that might be generated by other users.
Deactivate the Stop & Start function.
Drive as slowly as possible without stalling. In all cases, do not exceed 6 mph (10 km/h).
Do not stop and do not switch off the motor.
On leaving the flooded road, as soon as safety conditions allow, make several light brake applications to dry the brake discs and pads. If in doubt about the state of your vehicle, contact a dealer or a qualified workshop.
Categories
To access the front screw thread: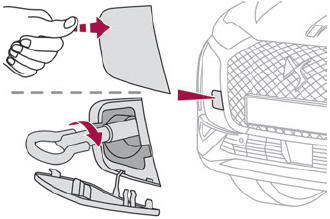 Unclip the cover by pressing at its top lefthand corner. Release the cover.