DS 3: Practical information / AdBlue® (BlueHDi)
DS 3 2016-2023 Owners Manual
To respect the environment and ensure compliance with the Euro 6 standard, without adversely affecting the performance or fuel consumption of its Diesel engines, the Manufacturer has taken the decision to equip its vehicles with a system that combines SCR (Selective Catalytic Reduction) with a Diesel Particle Filter (DPF) for the treatment of exhaust gases.
Unless otherwise indicated, check these components in accordance with the manufacturer's service schedule and according to your engine. Otherwise, have them checked by a dealer or a qualified workshop...
Using a liquid called AdBlue® that contains urea, a catalytic converter turns up to 85% of the nitrogen oxides (NOx) into nitrogen and water, which are harmless to health and the environment...
Other information:
Longitudinal Push the control forwards or backwards to slide the seat. Backrest angle Tilt the control forwards or rearwards. Cushion height and angle Tilt the rear of the control upwards or downwards to obtain the required height and angle...
Forward-facing or rearward-facing Move the vehicle's front seat forward and straighten the backrest so that the legs of the child in the forward-facing or rearward-facing child seat itself do not touch the vehicle's front seat. Check that the backrest of the forward-facing child seat is as close as possible to the backrest of the vehicle's rear seat, and ideally in contact with i..
Categories
To access the front screw thread: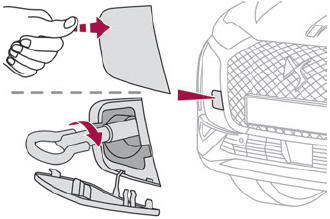 Unclip the cover by pressing at its top lefthand corner. Release the cover.