DS 3: Practical information / Misfuel prevention (Diesel)
DS 3 2016-2023 Owners Manual
(Depending on country of sale.)
This mechanical device prevents filling the tank of a Diesel vehicle with petrol.
Located in the filler neck, the misfuel prevention device is visible when the filler cap is removed.
Operation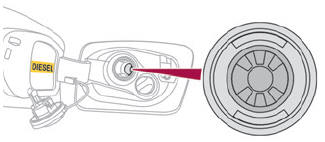 When a petrol filler nozzle is introduced into the fuel filler neck of a Diesel vehicle, it comes into contact with the flap. The system remains closed and prevents filling.
Do not persist but introduce a Diesel type filler nozzle.

The use of a fuel jerrycan to fill the tank remains possible.

Travelling abroad
As Diesel fuel pump nozzles may be different in other countries, the presence of the misfuel prevention device may make refuelling impossible.
Before travelling abroad, it is advisable to check with a dealer if the vehicle is suitable for the distribution equipment of the countries visited.
Fuel tank capacity: approximately 44 litres (Petrol) or 41 litres (Diesel). Reserve level: approximately 6 litres. Low fuel level When the low fuel level is reached, this warning lamp lights up on the instrument panel, accompanied by the display of a message and an audible signal...
Other information:
Terrestrial Digital Radio Digital radio provides higher quality sound. The various "multiplexes/ensembles" offer a choice of radio stations organised in alphabetical order. Press Radio Media to display the main page. Press the "OPTIONS" button to access the secondary page. Press "Band" to select "DAB band". Press in the shaded area to confirm. FM-DAB Follow-up "DAB" does not cover 100 % ..
(Depending on engine.) System which reduces fuel consumption by recommending the most appropriate gear. Operation Depending on the driving situation and the vehicle's equipment, the system may recommend skipping one or more gears. Gear engagement recommendations are not to be considered mandatory. Indeed, the configuration of the road, the traffic density and safety remain determining factor..
Categories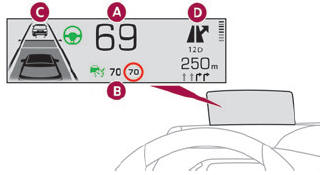 Once the system has been activated, the following information is grouped together in the head-up display:
The speed of the vehicle. Cruise control/speed limiter information and, if the vehicle is so equipped, the Road signs recognition function. If the vehicle is so equipped, inter-vehicle distance information, lane departure warning system information, lane positioning assist information, and automatic emergency braking alerts. If the vehicle is so equipped, navigation information.