DS 3: Practical information / Misfuel prevention (Diesel)
DS 3 2016-2022 Owners Manual
(Depending on country of sale.)
This mechanical device prevents filling the tank of a Diesel vehicle with petrol.
Located in the filler neck, the misfuel prevention device is visible when the filler cap is removed.
Operation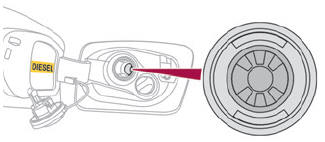 When a petrol filler nozzle is introduced into the fuel filler neck of a Diesel vehicle, it comes into contact with the flap. The system remains closed and prevents filling.
Do not persist but introduce a Diesel type filler nozzle.

The use of a fuel jerrycan to fill the tank remains possible.

Travelling abroad
As Diesel fuel pump nozzles may be different in other countries, the presence of the misfuel prevention device may make refuelling impossible.
Before travelling abroad, it is advisable to check with a dealer if the vehicle is suitable for the distribution equipment of the countries visited.
Fuel tank capacity: approximately 44 litres (Petrol) or 41 litres (Diesel). Reserve level: approximately 6 litres. Low fuel level When the low fuel level is reached, this warning lamp lights up on the instrument panel, accompanied by the display of a message and an audible signal...
Other information:
In an emergency, press button 1 for more than 2 seconds. The lighting of the indicator lamp and a voice message confirm that the call has been made to the emergency services*. 'Localised Emergency Call' immediately locates your vehicle and puts you in contact with the appropriate emergency services**. Pressing again immediately cancels the request. The indicator lamp flashes when..
If there is no telephone connected by Bluetooth, a voice message announces: "Please first connect a telephone", and the voice session is closed. The "Text messages" voice commands function allows you to dictate and send an SMS. Dictate the text, taking care to pause briefly between each word. When you have finished, the voice recognition system will automatically generate an SMS. Voice..
Categories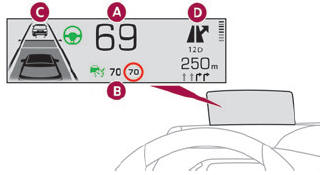 Once the system has been activated, the following information is grouped together in the head-up display:
The speed of the vehicle. Cruise control/speed limiter information and, if the vehicle is so equipped, the Road signs recognition function. If the vehicle is so equipped, inter-vehicle distance information, lane departure warning system information, lane positioning assist information, and automatic emergency braking alerts. If the vehicle is so equipped, navigation information.