DS 3: Back-up procedures / Changing the battery
DS 3 2016-2022 Owners Manual
A message is displayed on the instrument panel when the battery needs changing.
Battery type: CR2032/3 volts.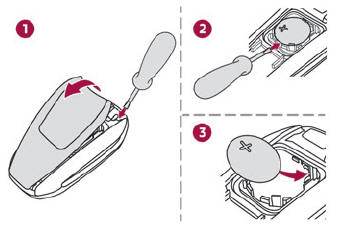 Unclip the cover by inserting a small screwdriver in the slot and lift the cover.
Remove the flat battery from its housing.
Put the new battery in place, respecting the polarity. Start by inserting it into the contacts located in the corner, then clip the cover onto the unit.
Reinitialise the remote control.
For more information on Reinitialising the remote control, refer to the corresponding section.

Do not throw remote control batteries away, as they contain metals that are harmful to the environment. Take them to an approved disposal point.
Categories
Various visible markings for vehicle identification and vehicle search.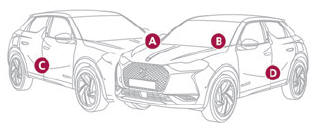 Vehicle Identification Number (VIN), under the bonnet.
Copyright © 2022 www.ds3manuals.com