DS 3: Technical data / Identification markings
DS 3 2016-2023 Owners Manual
Various visible markings for vehicle identification and vehicle search.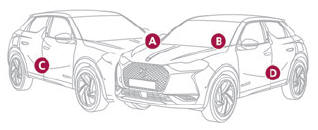 Vehicle Identification Number (VIN), under the bonnet.

Stamped on the chassis, near the right-hand front wheel arch.

Vehicle Identification Number (VIN), on the dashboard.

Printed on an adhesive label visible through the windscreen.

Manufacturer's label.

Affixed to the centre pillar.

Bears the following information:

Manufacturer's name.
European whole vehicle type approval number.
Vehicle Identification number (VIN).
Gross vehicle weight (GVW).
Gross train weight (GTW).
Maximum weight on the front axle.
Maximum weight on the rear axle.

Tyres/paint code label.

Affixed to the driver's door.

Bears the following information about the tyres:

Tyre pressures, unladen and laden.

Tyre specification, made up of the dimensions and type as well as the load and speed indices.

Spare tyre inflation pressure.

Also indicates the paint colour code.
These dimensions have been measured on an unladen vehicle. * Mirrors folded ..
Other information:
The following information groups together the answers to the most frequently asked questions concerning the system. Radio The reception quality of the tuned radio station gradually deteriorates or the station presets are not working (no sound, 87.5 MHz is displayed, etc.). The vehicle is too far from the selected station's transmitter, or no transmitter is present in the geographical area..
Multimedia audio system - Applications - Bluetooth® telephone The functions and settings described vary according to the vehicle version and configuration, as well as the country of sale. For safety reasons and because they require sustained attention by the driver, the following operations must be carried out with the vehicle stationary and the ignition on: Pairing the smartphone wit..
Categories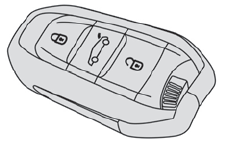 The remote control can be used for the following remote functions, depending on version:
Unlocking/Locking/Deadlocking the vehicle. Unlocking/Locking the boot. Folding/Unfolding the door mirrors. Folding/Unfolding the exterior door handles. Activating/Deactivating the alarm. Locating the vehicle. Closing the windows. Activating the vehicle's electronic immobiliser.
Copyright © 2023 www.ds3manuals.com