DS 3: Technical data / Identification markings
DS 3 2016-2023 Owners Manual
Various visible markings for vehicle identification and vehicle search.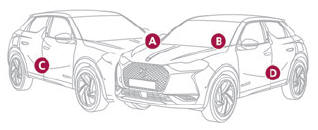 Vehicle Identification Number (VIN), under the bonnet.

Stamped on the chassis, near the right-hand front wheel arch.

Vehicle Identification Number (VIN), on the dashboard.

Printed on an adhesive label visible through the windscreen.

Manufacturer's label.

Affixed to the centre pillar.

Bears the following information:

Manufacturer's name.
European whole vehicle type approval number.
Vehicle Identification number (VIN).
Gross vehicle weight (GVW).
Gross train weight (GTW).
Maximum weight on the front axle.
Maximum weight on the rear axle.

Tyres/paint code label.

Affixed to the driver's door.

Bears the following information about the tyres:

Tyre pressures, unladen and laden.

Tyre specification, made up of the dimensions and type as well as the load and speed indices.

Spare tyre inflation pressure.

Also indicates the paint colour code.
These dimensions have been measured on an unladen vehicle. * Mirrors folded ..
Other information:
If the vehicle's battery is flat, the engine can be started using a backup battery (either external or from another vehicle) and jump leads or using a battery booster. Never start the engine by connecting a battery charger. Never use a 24 V or higher battery booster. Check beforehand that the backup battery has a nominal voltage of 12 V and a capacity at least equal to that of the discharg..
This function warns the driver that their vehicle is at risk of a collision with the vehicle in front, or with a pedestrian or cyclist present in their traffic lane. Modifying the alert trigger threshold This trigger threshold determines the sensitivity with which the function warns of the risk of collision. The threshold is set via the Driving/Vehicle touch screen menu. Select one of th..
Categories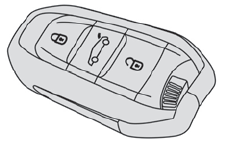 The remote control can be used for the following remote functions, depending on version:
Unlocking/Locking/Deadlocking the vehicle. Unlocking/Locking the boot. Folding/Unfolding the door mirrors. Folding/Unfolding the exterior door handles. Activating/Deactivating the alarm. Locating the vehicle. Closing the windows. Activating the vehicle's electronic immobiliser.
Copyright © 2023 www.ds3manuals.com