DS 3: Practical information / Snow chains
DS 3 2016-2023 Owners Manual
In wintry conditions, snow chains improve traction as well as the behaviour of the vehicle when braking.

Snow chains must be fitted only to the front wheels. They must never be fitted to "space-saver" type spare wheels.

Observe the legislation in force in your country relating to the use of snow chains and maximum authorised speeds.
Use only chains designed to be fitted to the type of wheel fitted to the vehicle: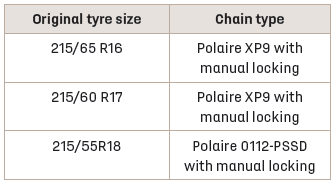 For more information on snow chains, contact a dealer or a qualified workshop.
Installation tips
To fit the snow chains during a journey, stop the vehicle on a flat surface at the side of the road.
Apply the parking brake and position any wheel chocks under the wheels to prevent movement of the vehicle.
Fit the snow chains following the instructions provided by the manufacturer.
Move off gently and drive for a few moments, without exceeding 31 mph (50 km/h).
Stop the vehicle and check that the snow chains are correctly tightened.

It is strongly recommended that you practise fitting the snow chains on a level and dry surface before setting off.

Avoid driving with snow chains on roads that have been cleared of snow to avoid damaging the vehicle's tyres and the road surface. If the vehicle is fitted with alloy wheels, check that no part of the chain or its fixings is in contact with the wheel rim.