DS 3: Practical information / Compatibility of fuels
DS 3 2016-2023 Owners Manual

Petrol fuels conforming to the EN228 standard containing up to 5% and 10% ethanol respectively.

Diesel fuels conforming to the EN590, EN16734 and EN16709 standards and containing up to 7%, 10%, 20% and 30% fatty acid methyl ester respectively. The use of B20 or B30 fuels, even occasionally, imposes special maintenance conditions referred to as "Arduous conditions".

Paraffinic Diesel fuel conforming to the EN15940 standard.

The use of any other type of (bio)fuel (e.g. pure or diluted vegetable or animal oils, domestic fuel) is strictly prohibited - risk of damaging the engine and fuel system!

The only fuel additives authorised for use are those that meet the B715001 (petrol) or B715000 (Diesel) standards.
Diesel at low temperature
At temperatures below 0 °C (+32 °F), the formation of paraffins in summer-type Diesel fuels could prevent the engine from operating correctly. In these temperature conditions, use winter-type Diesel fuel and keep the fuel tank more than 50 % full.
At temperatures below -15 °C (+5 °F) to avoid problems starting, it is best to park the vehicle under shelter (heated garage).
Travelling abroad
Certain fuels could damage your vehicle's engine. In certain countries, the use of a particular fuel may be required (specific octane rating, specific trade name, etc.) to ensure correct operation of the engine.
For all additional information, consult a dealer.
Fuel tank capacity: approximately 44 litres (Petrol) or 41 litres (Diesel). Reserve level: approximately 6 litres. Low fuel level When the low fuel level is reached, this warning lamp lights up on the instrument panel, accompanied by the display of a message and an audible signal...
Other information:
(Depending on version) The gauge shows the consumption of the traction battery's electrical energy by the thermal comfort devices in the passenger compartment. The devices in question are the heating and air conditioning systems. This equipment can be used: If the vehicle is not plugged in, when the READY lamp is lit...
Switching on/pausing Turn thumbwheel 1 to the "CRUISE" position to select cruise control mode; the function is paused. Press button 2 or 3 to activate cruise control and save a speed setting when the vehicle has reached the desired speed; the vehicle's current speed is saved as the speed setting...
Categories
These illustrations and descriptions are provided for information only, as the locations of certain elements may vary depending on the version or trim level.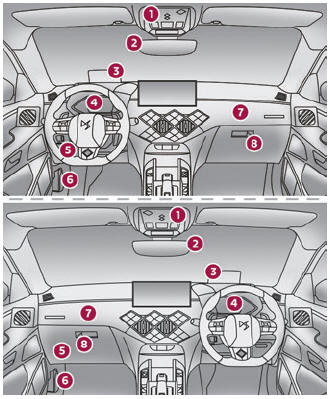 Front courtesy/map reading lamps Emergency and assistance call buttons Warning lamp display for seat belts and front passenger airbag Interior rear view mirror Head-up display Digital instrument panel Fusebox Bonnet release Front passenger airbag Glove box