DS 3: Driving / DS PARK PILOT
DS 3 2016-2023 Owners Manual

For more information, refer to the General recommendations on the use of driving and manoeuvring aids.
This system provides active parking assistance for vehicles fitted with the EAT8 automatic gearbox or a gear selector: it detects a free "parallel" or "bay" parking space and then operates the vehicle, parking it with no need for driver intervention. It also allows you to automatically exit a "parallel" parking space.
The system controls the steering, direction, acceleration and braking. The system measures the available parking spaces and calculates the distances to obstacles using 12 ultrasonic sensors built into the front and rear bumpers of the vehicle.
To help the driver monitor the successful completion of the manoeuvre, the system automatically displays the Reversing camera and activates the parking sensors.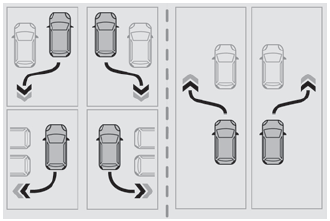 DS PARK PILOT is not always able to react automatically and appropriately due to the performance limits inherent to the system.
The manoeuvre remains the responsibility of the driver, who must not leave the driving position and must never try to lock the system control button.
The driver's seat belt must remain fastened during the manoeuvre.
Categories
Various visible markings for vehicle identification and vehicle search.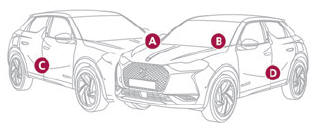 Vehicle Identification Number (VIN), under the bonnet.