DS 3: DS PARK PILOT / Manoeuvre type selection and parking space search
DS 3 2016-2023 Owners Manual
Depending on whether the vehicle has been driven or not since the ignition was switched on, the function offers to enter or exit a parking space on the touch screen.
Select the type and side of the manoeuvre to activate the parking space search.
This lamp comes on to confirm activation.
You can change the type of manoeuvre at any time, including during the available parking space search phase.
Drive at a distance of 0.50 to 1.50 m from the row of parked vehicles, not exceeding 19 mph (30 km/h), until the system finds an available space (indicated by OK on the display and an audible signal).

For "parallel" parking, the space must at least equal to the length of your vehicle plus 1 m.
For "bay" parking, the space must at least equal to the width of your vehicle plus 0.70 m.
Categories
This digital instrument panel can be customised. Depending on the display mode selected, certain information is hidden or presented differently.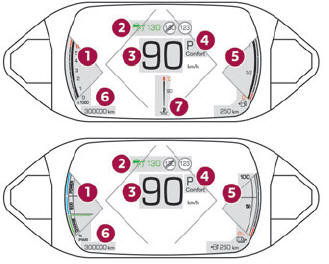 Rev counter (x 1000 rpm) (Petrol or Diesel)