DS 3: Lane positioning assist / Operating limits. Malfunction
DS 3 2016-2023 Owners Manual
Operating limits

The system may issue an alert when the vehicle is travelling on a long, straight road with smooth road surface even if the driver thinks they are holding the steering wheel correctly.
The system may not operate or may produce unsuitable corrections to the steering in the following situations:
Poor visibility (insufficient road lighting, snowfall, rain, fog).
Dazzle (headlamps of an oncoming vehicle, low sun, reflections on a wet road surface, leaving a tunnel, alternating light and shade).
Windscreen area in front of the camera dirty, misted up, frost-covered, snow-covered, damaged or covered by a sticker.
Lane markings eroded, partially hidden (snow, mud) or multiple (roadworks, surface joints).
Travelling in a tight bend.
Winding roads.
Presence of a tarmac joint on the road.
Risk of undesirable operation

The system should be deactivated in the following situations:
Driving with a "space-saver" type spare wheel.
When towing or with a bicycle carrier attached to a towing device, particularly when a trailer is not connected or the trailer is not an approved type.
Adverse weather conditions.
Driving on slippery road surfaces (risk of aquaplaning, snow, ice).
In roadworks or toll booth areas.
Driving on racing circuits.
Driving on a rolling road.
Malfunction
In the event of a malfunction, the Service warning lamp comes on and this (orange) symbol appears on the instrument panel, accompanied by the display of a message and an audible signal.
Have it checked by a dealer or a qualified workshop.
For more information, refer to the General recommendations on the use of driving and manoeuvring aids. The system corrects the vehicle's trajectory by alerting the driver as soon as it detects a risk of involuntary lane departure or crossing of a verge or hard shoulder (depending on version)...
Other information:
To send information about danger zones, select the option: Allow declaration of danger zones Press Navigation to display the main page. Press the "Declare a new danger zone" button located in the side bars or the upper bar of the touch screen (depending on equipment)...
The following information groups together the answers to the most frequently asked questions concerning the system. Radio The reception quality of the tuned radio station gradually deteriorates or the station presets are not working (no sound, 87...
Categories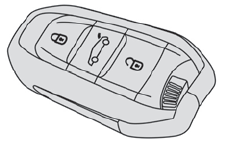 The remote control can be used for the following remote functions, depending on version:
Unlocking/Locking/Deadlocking the vehicle. Unlocking/Locking the boot. Folding/Unfolding the door mirrors. Folding/Unfolding the exterior door handles. Activating/Deactivating the alarm. Locating the vehicle. Closing the windows. Activating the vehicle's electronic immobiliser.