DS 3: Driving / Active Safety Brake with Collision Risk Alert and Intelligent emergency braking assistance
DS 3 2016-2023 Owners Manual

For more information, refer to the General recommendations on the use of driving and manoeuvring aids.

This system:
warns the driver that their vehicle is at risk of collision with the vehicle in front, a pedestrian or, depending on version, a cyclist.
reduces the vehicle's speed to avoid a collision or limit its severity.

The system also takes motorcyclists and animals into account; however, animals below 0.5 m tall and objects on the road are not necessarily detected.
This system is comprised of three functions:
Collision Risk Alert.
Intelligent emergency braking assistance (iEBA).
Active Safety Brake (automatic emergency braking).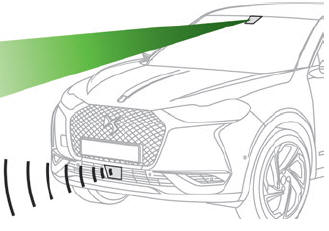 The vehicle has a multifunction camera located at the top of the windscreen and, depending on version, a radar located in the front bumper.

This system does not replace the need for vigilance on the part of the driver.
This system is designed to assist the driver and improve road safety.
It is the driver's responsibility to continuously monitor traffic conditions in accordance with applicable driving regulations.

As soon as the system detects a potential obstacle, it prepares the braking circuit in case automatic braking is needed. This may cause a slight noise and a slight sensation of deceleration.
Categories
These illustrations and descriptions are provided for information only, as the locations of certain elements may vary depending on the version or trim level.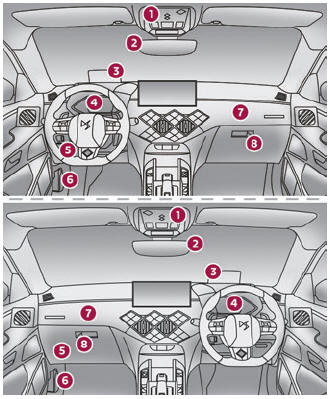 Front courtesy/map reading lamps Emergency and assistance call buttons Warning lamp display for seat belts and front passenger airbag Interior rear view mirror Head-up display Digital instrument panel Fusebox Bonnet release Front passenger airbag Glove box