DS 3: Driving / Active Lane Departure Warning System
DS 3 2016-2022 Owners Manual

For more information, refer to the General recommendations on the use of driving and manoeuvring aids.
The system corrects the vehicle's trajectory by alerting the driver as soon as it detects a risk of involuntary lane departure or crossing of a verge or hard shoulder (depending on version).
To do this, the system uses a camera, placed on the upper part of the windscreen, identifying the lane markings on the ground and the side of the road (depending on version).
This system is particularly useful on motorways and main roads.

Operating conditions
Vehicle speed between 43 and 112 mph (70 and 180 km/h).
Road marked with a central dividing line.
Steering wheel held in both hands.
Direction indicators not activated.
ESC system activated and operational.

The system helps the driver only if there is a risk of the vehicle unintentionally wandering from the lane it is being driven in. It does not manage the safe driving distance, vehicle speed or braking.
The driver must hold the steering wheel with both hands in a way that allows control to be maintained in circumstances where the system is not able to intervene (for example, if the central dividing line disappears).
Categories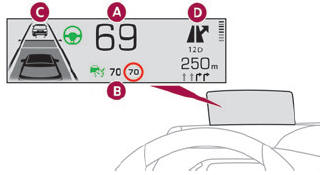 Once the system has been activated, the following information is grouped together in the head-up display:
The speed of the vehicle. Cruise control/speed limiter information and, if the vehicle is so equipped, the Road signs recognition function. If the vehicle is so equipped, inter-vehicle distance information, lane departure warning system information, lane positioning assist information, and automatic emergency braking alerts. If the vehicle is so equipped, navigation information.