DS 3: Active Lane Departure Warning System / Operation
DS 3 2016-2023 Owners Manual
As soon as the system identifies a risk of involuntarily crossing one of the lane markings detected on the ground or a lane boundary (e.g. grass verge), it performs the trajectory correction necessary to restore the vehicle to its original lane.
The driver will notice a turning movement of the steering wheel.

This warning lamp flashes during trajectory correction.

The driver can prevent the correction by firmly holding the steering wheel (e.g. during an emergency manoeuvre).
The correction is interrupted immediately if the direction indicators are operated.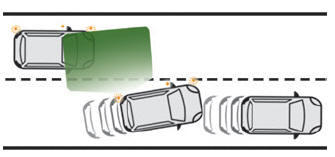 While the direction indicators are activated and for a few seconds after switching them off, the system considers that a change of trajectory is intentional and no correction is triggered during this period.
However, with the Blind Spot Detection system activated, if the driver is about to change lanes while another vehicle is detected in the blind spots of their vehicle, a trajectory correction is initiated by the system despite the activation of the direction indicators.
For more information on the Blind Spot Detection, refer to the corresponding section.

If the system detects that the driver is not holding the wheel firmly enough during an automatic correction of trajectory, it interrupts the correction. An alert is triggered to encourage the driver to take back control of the vehicle.