DS 3: Connected navigation / Settings specific to connected navigation
DS 3 2016-2023 Owners Manual

Press Navigation to display the main page.
Press the "MENU" button to access the secondary page.

Select "Settings".

Select the "Map" tab.
Activate or deactivate:
"Allow declaration of danger zones".
"Guidance to final destination on foot".
These settings must be configured for each profile.

Press "OK" to confirm your selection.

Select the "Alerts" tab.

Activate or deactivate:
"Advise of car park nearby".
"Filling station alert".
"Risk areas alert" then press the warning icon (triangle) to configure the alerts.
"Give an audible warning".
"Advise proximity of POI 1".
"Advise proximity of POI 2".

Press "OK" to confirm your selection.

The "Notifications", located in the upper bar, can be accessed at any time.
Danger zone alerts may or may not be displayed, depending on the applicable legislation and subscription to the corresponding service.

When "TOMTOM TRAFFIC" appears, the services are available.

The services offered with connected navigation are as follows.
A Connected Services pack:
Weather,
Filling stations,
Car park,
Traffic,
POI local search.
A Danger area pack (optional).
Categories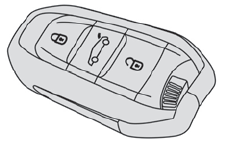 The remote control can be used for the following remote functions, depending on version:
Unlocking/Locking/Deadlocking the vehicle. Unlocking/Locking the boot. Folding/Unfolding the door mirrors. Folding/Unfolding the exterior door handles. Activating/Deactivating the alarm. Locating the vehicle. Closing the windows. Activating the vehicle's electronic immobiliser.