DS 3: Connected navigation / Declaration: "Risk areas alert"
DS 3 2016-2023 Owners Manual

To send information about danger zones, select the option: Allow declaration of danger zones

Press Navigation to display the main page.

Press the "Declare a new danger zone" button located in the side bars or the upper bar of the touch screen (depending on equipment).

Select the "Type" option to select the type of "Danger area".

Select the ""Speed" option and enter it using the virtual keypad.

Press "OK" to save and send the information.
Categories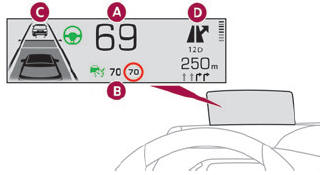 Once the system has been activated, the following information is grouped together in the head-up display:
The speed of the vehicle. Cruise control/speed limiter information and, if the vehicle is so equipped, the Road signs recognition function. If the vehicle is so equipped, inter-vehicle distance information, lane departure warning system information, lane positioning assist information, and automatic emergency braking alerts. If the vehicle is so equipped, navigation information.