DS 3: Driving / 6-speed manual gearbox
DS 3 2016-2023 Owners Manual
Engaging 5th or 6th gear
Move the gear selector fully to the right to engage 5th or 6th gear.

Failure to follow this instruction could cause permanent damage to the gearbox (inadvertent engagement of 3rd or 4th gear).
Engaging reverse gear
Raise the ring under the knob and move the gear selector to the left, then forwards.

Only engage reverse gear when the vehicle is stationary with the engine at idle.

As a safety precaution and to facilitate starting the engine:
Always select neutral.
Press the clutch pedal.
Categories
In each mode, specific types of information are displayed on the instrument panel.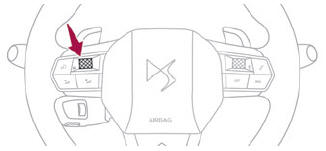 Copyright © 2023 www.ds3manuals.com