DS 3: Front seats / Heated seats
DS 3 2016-2022 Owners Manual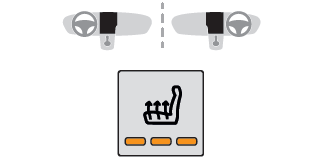 The function is active only with the engine running.
Press the button corresponding to the seat.
Each press changes the heating level; the corresponding number of indicator lamps come on.
To switch off the heating, press the button until all of the indicator lamps are off.
The system status is memorised when the ignition is switched off.
Do not use the function when the seat is not occupied.
Reduce the heating intensity as soon as possible.
When the seat and passenger compartment have reached a satisfactory temperature, switch the function off; reducing electrical consumption in turn decreases energy consumption.

Prolonged use of heated seats is not recommended for people with sensitive skin.
There is a risk of burns for people whose perception of heat is impaired (e.g. illness, taking medication).
To keep the heated pad intact and to prevent a short circuit:
Do not place heavy or sharp objects on the seat.
Do not kneel or stand on the seat.
Do not spill liquids onto the seat.
Never use the heating function if the seat is damp.
Categories
These illustrations and descriptions are provided for information only, as the locations of certain elements may vary depending on the version or trim level.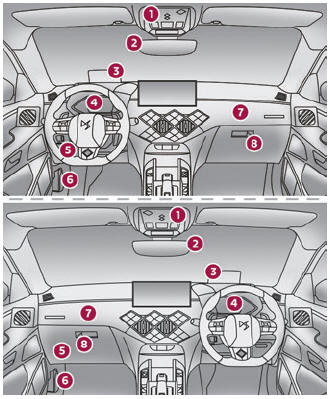 Front courtesy/map reading lamps Emergency and assistance call buttons Warning lamp display for seat belts and front passenger airbag Interior rear view mirror Head-up display Digital instrument panel Fusebox Bonnet release Front passenger airbag Glove box