DS 3: Ease of use and comfort / Rear bench seat
DS 3 2016-2023 Owners Manual
Bench seat with fixed cushions and split folding backrests (2/3-1/3) to adapt the boot load space.
Equipped with an anti-dazzle system, which darkens the mirror glass and reduces the nuisance to the driver caused by the sun, headlamps of other vehicles, etc...
They have two positions: A high position, for when the seat is in use: Pull the head restraint fully up. A low position, for stowing, when the seat is not in use: Press the lug A to release the head restraint and push it down...
Other information:
Vehicle detected by the system (full symbol) Cruise control active (colour not grey) Speed setting value Speed suggested by the Speed Limit Recognition and Recommendation Vehicle held stationary (versions with automatic gearbox or drive selector) Inter-vehicle distance setting Position of the vehicle detected by the system ..
This is a Keyless Entry and Starting system. It enables automatic vehicle locking/unlocking simply by detecting the electronic key. As long as the driver has the electronic key on their person, the vehicle unlocks as they approach and locks when they walk away. If the electronic key is present in an area between 2 and 7 m from the vehicle for more than 30 minutes, the system is deactivated t..
Categories
Various visible markings for vehicle identification and vehicle search.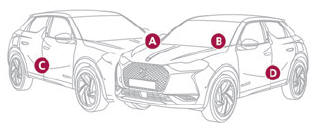 Vehicle Identification Number (VIN), under the bonnet.