DS 3: DS CONNECT NAV / First steps
DS 3 2016-2023 Owners Manual

With the engine running, a press mutes the sound.
With the ignition off, a press turns the system on.
Increase or decrease the volume using the wheel or the "plus" or "minus" buttons (depending on the equipment).
Use the menu buttons on either side of or below the touch screen for access to the menus, then press the virtual buttons in the touch screen.
Display the rolling menus at any time by pressing the screen briefly with three fingers.
All of the touch areas of the screen are white.
Press the back arrow to go back a level.
Press "OK" to confirm.

The touch screen is of the "capacitive" type.
To clean the screen, use a soft, non-abrasive cloth (e.g. spectacles cloth) with no additional product.
Do not use sharp objects on the screen.
Do not touch the screen with wet hands.
Certain information is displayed permanently in the side bars or in the upper bar of the touch screen (depending on equipment):
Air conditioning status information (depending on version), and direct access to the corresponding menu.
Go directly to the audio source selection option, to view the list of radio stations (or list of titles depending on the source).
Go to the "Notifications" of messages, emails, map updates and, depending on the services, the navigation notifications.
Go to the settings for the touch screen and the digital instrument panel.
Audio source selection (depending on equipment):
FM/DAB/AM radio stations (depending on equipment).
Telephone connected via Bluetooth and Bluetooth multimedia broadcast (streaming).
USB memory stick.
Media player connected via the auxiliary socket (depending on equipment).
Video (depending on equipment).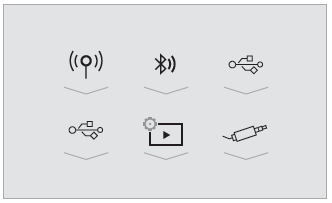 In the "Settings" menu, it is possible to create a profile for an individual or for a group of people with shared interests, and configure a wide range of settings (radio presets, audio settings, navigation history, favourite contacts, etc.). Settings are applied automatically.

In very hot conditions, the volume may be limited to protect the system. It may enter standby mode (with the screen and sound off) for 5 minutes or more.
The system will resume normal operation when the temperature in the passenger compartment has dropped.