DS 3: Ease of use and comfort / Boot fittings
DS 3 2016-2022 Owners Manual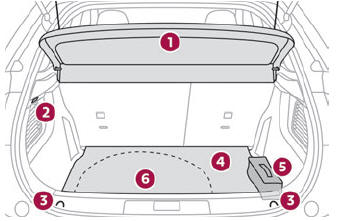 Load space cover
Boot lamp
Stowing rings
Boot mat
Tool kit (depending on equipment)
Storage well

The stowing rings are designed to secure luggage using different types of retaining nets. They are used with the ISOFIX mounting rings located behind the rear seats.
The retaining nets are available as an option or as an accessory.
For more information, contact a dealer.
Load space cover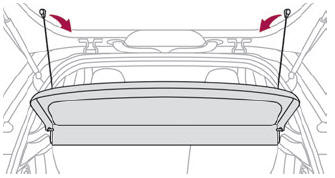 To remove the load space cover:
unhook the two cords,
gently lift the shelf, then remove it.
When sharp deceleration occurs, objects placed on the load space cover can turn into projectiles.
Storage well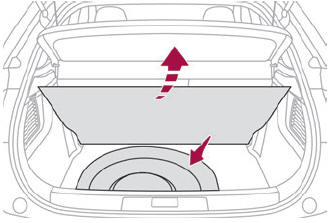 Lift the boot carpet as far as possible to access the storage well.
Depending on version, it includes:
A spare wheel with or without the tool kit.
The traction battery charging cable (Electric).
High load retaining net
This removable net allows the entire load volume behind the front seats to be used up to the roof when the rear seats are folded. It offers protection to the occupants when very sharp braking occurs.
Fold down the rear seats.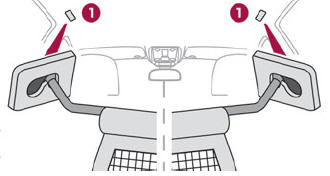 Insert the ends of the bar, one after the other, into fixing points 1 of the roof.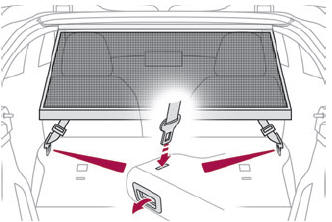 Attach the net's straps to the lower anchoring points, located on the fixings of the rear bench seat backrest.
Pull on the straps to stretch the net.
Boot lamp
It comes on automatically when the boot is opened and goes off automatically when the boot is closed.
The lighting time varies according to the circumstances:
When the ignition is off, approximately 10 minutes.
In energy saving mode, approximately 30 seconds.
With the engine running, unlimited.
Front touch-sensitive courtesy lamp Front touch-sensitive reading lamps Rear touch-sensitive reading lamps Front touch-sensitive courtesy lamp It comes on gradually: when the vehicle is unlocked...
Other information:
Left or right: lower or raise the lighting control stalk, beyond the point of resistance. If you keep the direction indicators on for more than 20 seconds, the volume of the audible signal will increase if the speed is above 50 mph (80 km/h). Three flashes Press briefly upwards or downwards, without going beyond the point of resistance; the direction indicators will flash 3 times...
(Depending on country of sale.) This mechanical device prevents filling the tank of a Diesel vehicle with petrol. Located in the filler neck, the misfuel prevention device is visible when the filler cap is removed. Operation When a petrol filler nozzle is introduced into the fuel filler neck of a Diesel vehicle, it comes into contact with the flap. The system remains closed and prevents fill..