DS 3: DS CONNECT NAV / Steering mounted controls
DS 3 2016-2023 Owners Manual

Voice control:
This control is located on the steering wheel or at the end of the lighting control stalk (depending on equipment).
Short press, system voice control.
Long press, voice commands from smartphone or CarPlay®, Android Auto via the system.

Increase volume.

Decrease volume.
Mute by pressing the volume increase and decrease buttons simultaneously (depending on equipment).
Restore the sound by pressing one of the two volume buttons.

Media (short press): change the multimedia source.

Telephone (short press): start telephone call.
Call in progress (short press): access telephone menu.
Telephone (long press): reject an incoming call, end call; when no call is in progress, access telephone menu.

Radio (rotate): automatic search for the previous/next station.
Media (rotate): previous/next track, move through a list.
Short press: confirm a selection; if nothing selected, access presets.

Radio: display the list of stations.

Media: display the list of tracks.
Radio (press and hold): update the list of detected stations.
Categories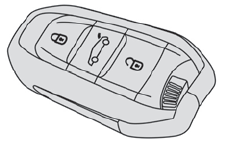 The remote control can be used for the following remote functions, depending on version:
Unlocking/Locking/Deadlocking the vehicle. Unlocking/Locking the boot. Folding/Unfolding the door mirrors. Folding/Unfolding the exterior door handles. Activating/Deactivating the alarm. Locating the vehicle. Closing the windows. Activating the vehicle's electronic immobiliser.