DS 3: Navigation / To a point on the map
DS 3 2016-2022 Owners Manual

Press Navigation to display the main page.
Explore the map by sliding a finger on the screen.
Select the destination by pressing on the map.

Tap the screen to place a marker and display the sub-menu.

Press this button to start guided navigation.
Or

Press this button to save the displayed address.

A long press on a point opens a list of nearby POIs.
Categories
Various visible markings for vehicle identification and vehicle search.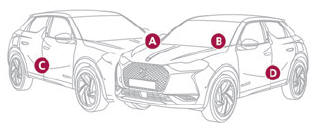 Vehicle Identification Number (VIN), under the bonnet.