DS 3: Safety / Hazard warning lamps. Horn. Pedestrian horn (Electric)
DS 3 2016-2023 Owners Manual
Hazard warning lamps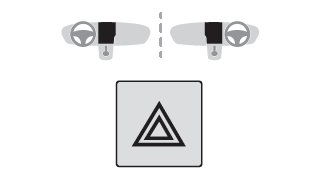 Pressing this red button causes all the direction indicators to flash.
They can work with the ignition switched off.
Automatic operation of hazard warning lamps
When braking in an emergency, depending on the rate of deceleration, the hazard warning lamps come on automatically. They switch off automatically when you next accelerate. They can be switched off by pressing the button.
Horn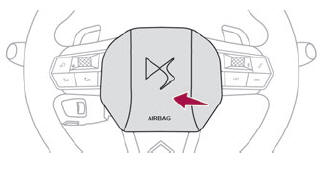 Press the central part of the steering wheel.
Pedestrian horn (Electric)
This system alerts pedestrians that the vehicle is approaching.
The pedestrian horn operates once the vehicle is moving and at speeds of up to 19 mph (30 km/h), in forward or reverse gear.
This function cannot be deactivated.
Malfunction

In the event of a malfunction, this warning lamp comes on on the instrument panel.
Have it checked by a dealer or a qualified workshop.
Do not remove the labels attached in different places on your vehicle. They include safety warnings as well as identification information for the vehicle...
Localised Emergency Call Localised Assistance Call ..
Other information:
Operating limits The system may issue an alert when the vehicle is travelling on a long, straight road with smooth road surface even if the driver thinks they are holding the steering wheel correctly. The system may not operate or may produce unsuitable corrections to the steering in the following situations: Poor visibility (insufficient road lighting, snowfall, rain, fog). Dazzle (h..
Multimedia audio system - Bluetooth® telephone The functions and settings described vary according to the vehicle version and configuration. For safety reasons and because they require sustained attention by the driver, the following operations must be carried out with the vehicle stationary and the ignition on: Pairing the smartphone with the system in Bluetooth mode. Using the sm..
Categories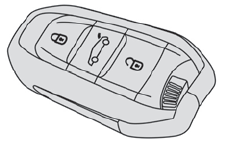 The remote control can be used for the following remote functions, depending on version:
Unlocking/Locking/Deadlocking the vehicle. Unlocking/Locking the boot. Folding/Unfolding the door mirrors. Folding/Unfolding the exterior door handles. Activating/Deactivating the alarm. Locating the vehicle. Closing the windows. Activating the vehicle's electronic immobiliser.