DS 3: Instruments / Remotely operable functions (Electric)
DS 3 2016-2023 Owners Manual

In addition to all the functions of the MyDS application that you can access from a smartphone, you can access the following functions:
Battery charge management (Deferred charging).
Temperature pre-conditioning management.
Consultation of the state of charge and range of the vehicle.
Installation procedure
Download the MyDS app from the appropriate online store for your smartphone.
Create an account.
Enter the vehicle's V.I.N. (code beginning with "VF" on the vehicle registration document).
For more information on Identification markings, refer to the corresponding section.

Network coverage
In order to be able to use the various remotely operable features, ensure that your vehicle is located in an area covered by the mobile network.
A lack of network coverage may prevent communication with the vehicle (for example, if it is in an underground car park). In such cases, the application will display a message indicating that the connection with the vehicle could not be established.
This system gives access to the following elements: Permanent display of the time and outside temperature (a blue warning lamp appears if there is a risk of ice)...
Other information:
With the engine running, a press mutes the sound. With the ignition off, a press turns the system on. Increase or decrease the volume using the wheel or the "plus" or "minus" buttons (depending on the equipment). Use the menu buttons on either side of or below the touch screen for access to the menus, then press the virtual buttons in the touch screen. Display the rolling menus at any time ..
Fuel tank capacity: approximately 44 litres (Petrol) or 41 litres (Diesel). Reserve level: approximately 6 litres. Low fuel level When the low fuel level is reached, this warning lamp lights up on the instrument panel, accompanied by the display of a message and an audible signal. When it first comes on, about 6 litres of fuel remain. Until sufficient fuel is added, this warning lamp appea..
Categories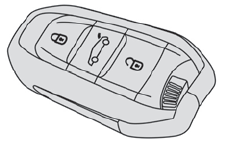 The remote control can be used for the following remote functions, depending on version:
Unlocking/Locking/Deadlocking the vehicle. Unlocking/Locking the boot. Folding/Unfolding the door mirrors. Folding/Unfolding the exterior door handles. Activating/Deactivating the alarm. Locating the vehicle. Closing the windows. Activating the vehicle's electronic immobiliser.