DS 3: Driving / Memorising speeds
DS 3 2016-2022 Owners Manual
This function, used only for the speed limiter and programmable cruise control, lets you save speed settings that will subsequently be proposed for the purpose of configuring these two systems.
You can memorise multiple speed settings for each of the two systems.
By default, some speed settings are already memorised.

As a safety measure, the driver must only change speed settings when stationary.
Changing a speed setting

Speed settings can be activated, deactivated, selected and changed in the Driving / Vehicle touch screen menu.
"MEM" button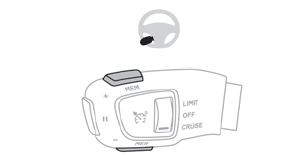 With this button, you can select a memorised speed setting to use with the speed limiter or the programmable cruise control.
For more information on the Speed limiter or Cruise control, refer to the corresponding section.
Switching on/pausing Turn thumbwheel 1 to the "CRUISE" position to select cruise control mode; the function is paused. Press button 2 or 3 to activate cruise control and save a speed setting when the vehicle has reached the desired speed; the vehicle's current speed is saved as the speed setting...
Only available on versions with the EAT8 automatic gearbox and drive selector. This system automatically adjusts the speed and corrects the trajectory of the vehicle, using the Adaptive Cruise Control with Stop&Go function in conjunction with the Lane Positioning Assist...
Other information:
Activation/Deactivation It is set via the Driving/Vehicle touch screen menu. When starting the vehicle, the warning lamp comes on in each mirror to indicate that the system is activated. The status of the system is memorised when the ignition is switched off...
Operation Using a camera, the system detects the driving conditions (brightess, lights from oncoming or followed vehicles, road turns) and adapts the beams of the main headlamps accordingly. The modules that make up the main beams switch on and off gradually, segment by segment, depending on the driving conditions detected: Followed vehicle When approaching a vehicle from behind, only those..