DS 3: Driving / Memorising speeds
DS 3 2016-2023 Owners Manual
This function, used only for the speed limiter and programmable cruise control, lets you save speed settings that will subsequently be proposed for the purpose of configuring these two systems.
You can memorise multiple speed settings for each of the two systems.
By default, some speed settings are already memorised.

As a safety measure, the driver must only change speed settings when stationary.
Changing a speed setting

Speed settings can be activated, deactivated, selected and changed in the Driving / Vehicle touch screen menu.
"MEM" button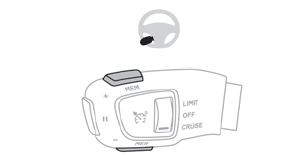 With this button, you can select a memorised speed setting to use with the speed limiter or the programmable cruise control.
For more information on the Speed limiter or Cruise control, refer to the corresponding section.