DS 3: Ease of use and comfort / Correct driving position
DS 3 2016-2023 Owners Manual

For safety reasons, adjustments must only be made when the vehicle is stationary.
Before taking to the road and to make the most of the ergonomic layout of the instruments and controls, carry out these adjustments in the following order:
head restraint height.
seat backrest angle.
seat cushion height.
longitudinal seat position.
steering wheel height and reach.
rear view mirror and door mirrors.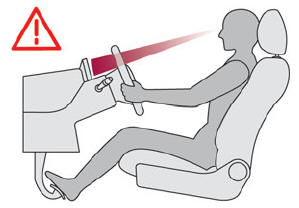 Once these adjustments have been made, check that the instrument panel can be viewed correctly from your driving position.
Before moving the seat backwards, ensure that there is no person or object that might prevent the full travel of the seat. There is a risk of trapping or pinching passengers if present in the rear seats or of jamming the seat if large objects are placed on the floor behind the seat...
Other information:
Electric vehicles were developed in accordance with the guidelines on maximum electromagnetic fields issued by the International Commission on Non-Ionizing Radiation Protection (ICNIRP - 1998 Guidelines). Wearers of pacemakers or equivalent devices The electric vehicles have been developed in accordance with the guidelines on the maximum levels for electromagnetic fields issued by the Int..
The remote control can be used for the following remote functions, depending on version: Unlocking/Locking/Deadlocking the vehicle. Unlocking/Locking the boot. Folding/Unfolding the door mirrors. Folding/Unfolding the exterior door handles. Activating/Deactivating the alarm. Locating the vehicle. Closing the windows. Activating the vehicle's electronic immobiliser. Built-in key The k..