DS 3: Driving / Cruise control
DS 3 2016-2022 Owners Manual

For more information, refer to the General recommendations on the use of driving and manoeuvring aids and the Cruise control - particular recommendations.

This system automatically maintains the vehicle's speed at the value programmed by the driver (speed setting), without the use of the accelerator pedal.
Cruise control is switched on manually.
It requires a minimum vehicle speed of 25 mph (40 km/h).
With a manual gearbox, third gear or higher must be engaged.
With an automatic gearbox, mode D or second gear or higher in mode M must be engaged.
With a drive selector, mode D or B must be engaged.
Cruise control remains active after changing gear, regardless of the gearbox type, on engines fitted with Stop & Start.

Switching off the ignition cancels any speed setting.
For the safety of everyone, only use the cruise control where the driving conditions allow running at a constant speed and keeping an adequate safety distance...
Steering-mounted control ON (CRUISE position)/OFF Activate cruise control at the current speed/ decrease speed setting Activate cruise control at the current speed/ increase speed setting Pause/resume cruise control with the speed setting previously saved Depending on version:Display the speed thresholds saved using the Memorising speeds function or Use the speed suggested by the ..
Other information:
Driving and manoeuvring aids cannot, in any circumstances, replace the need for vigilance on the part of the driver. The driver must comply with the Highway Code, must remain in control of the vehicle in all circumstances and must be able to retake control of it at all times. The driver must adapt the speed to climactic conditions, traffic and the state of the road. It is the driver's res..
Depending on whether the vehicle has been driven or not since the ignition was switched on, the function offers to enter or exit a parking space on the touch screen. Select the type and side of the manoeuvre to activate the parking space search. This lamp comes on to confirm activation. You can change the type of manoeuvre at any time, including during the available parking space searc..
Categories
This digital instrument panel can be customised. Depending on the display mode selected, certain information is hidden or presented differently.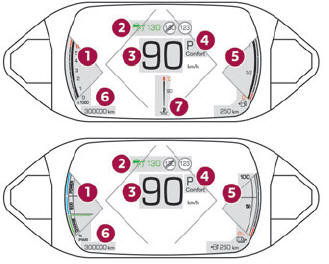 Rev counter (x 1000 rpm) (Petrol or Diesel)