DS 3: Driving / Cruise control
DS 3 2016-2022 Owners Manual

For more information, refer to the General recommendations on the use of driving and manoeuvring aids and the Cruise control - particular recommendations.

This system automatically maintains the vehicle's speed at the value programmed by the driver (speed setting), without the use of the accelerator pedal.
Cruise control is switched on manually.
It requires a minimum vehicle speed of 25 mph (40 km/h).
With a manual gearbox, third gear or higher must be engaged.
With an automatic gearbox, mode D or second gear or higher in mode M must be engaged.
With a drive selector, mode D or B must be engaged.
Cruise control remains active after changing gear, regardless of the gearbox type, on engines fitted with Stop & Start.

Switching off the ignition cancels any speed setting.
For the safety of everyone, only use the cruise control where the driving conditions allow running at a constant speed and keeping an adequate safety distance...
Steering-mounted control ON (CRUISE position)/OFF Activate cruise control at the current speed/ decrease speed setting Activate cruise control at the current speed/ increase speed setting Pause/resume cruise control with the speed setting previously saved Depending on version:Display the speed thresholds saved using the Memorising speeds function or Use the speed suggested by the ..
Other information:
Steering wheel-mounted controls Voice commands: Voice commands can be issued from any screen page after a short press on the "Voice commands" button located on the steering wheel or at the end of the lighting control stalk (depending on equipment), as long as there is no telephone call in progress. To ensure that voice commands are always recognised by the system, please follow these rec..
Anti-slip regulation (or traction control) optimises traction by using engine braking and by applying the brakes on the driving wheels to avoid one or more wheels spinning. It also enhances the vehicle's directional stability. If there is a difference between the vehicle's trajectory and the path desired by the driver, the dynamic stability control system automatically uses engine braking..
Categories
This digital instrument panel can be customised. Depending on the display mode selected, certain information is hidden or presented differently.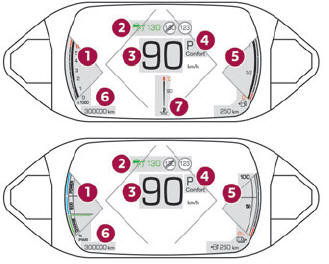 Rev counter (x 1000 rpm) (Petrol or Diesel)