DS 3: In the event of a breakdown / Changing a bulb
DS 3 2016-2022 Owners Manual

In some weather conditions (e.g. low temperature or humidity), the presence of misting on the internal surface of the glass of the headlamps and rear lamps is normal; it disappears after the lamps have been on for a few minutes.

The headlamps have polycarbonate lenses with a protective coating:
Do not clean them with a dry or abrasive cloth, nor with detergent or solvent products.
Use a sponge and soapy water or a pH neutral product.
When using a high-pressure washer on persistent marks, do not keep the lance directed towards the headlamps, lamps or their edges for too long, so as not to damage their protective coating and seals.

Changing a bulb must only be done with the ignition off and after the headlamp / lamp has been switched off for several minutes - risk of serious burns!
Do not touch the bulb directly with your fingers; use a lint-free cloth.
It is essential only to use anti-ultraviolet (UV) type bulbs, so as not to damage the headlamp. Always replace a failed bulb with a new bulb of the same type and specification. To avoid lighting imbalance, replace the bulbs in pairs.

After changing a bulb
To refit, carry out the operations in reverse order to removal.
Close the protective cover very carefully to guarantee the sealing of the lamps.
Fitting a steel or "space-saver" type spare wheel If the vehicle is fitted with alloy wheels, the washers A do not make contact with the steel or "space-saver" type spare wheel...
Depending on version, the affected types of headlamps/lamps are: "DS MATRIX LED VISION" headlamps. Offset daytime running lamps. Direction indicator side repeaters...
Other information:
The tables below describe the displays associated with the main driving situations. The display of these alerts is not sequential. ..
Front touch-sensitive courtesy lamp Front touch-sensitive reading lamps Rear touch-sensitive reading lamps Front touch-sensitive courtesy lamp It comes on gradually: when the vehicle is unlocked. when the ignition is switched off. when a door is opened. when the remote control locking button is activated, in order to locate the vehicle. It switches off: when the vehicle is locke..
Categories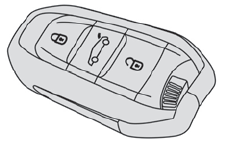 The remote control can be used for the following remote functions, depending on version:
Unlocking/Locking/Deadlocking the vehicle. Unlocking/Locking the boot. Folding/Unfolding the door mirrors. Folding/Unfolding the exterior door handles. Activating/Deactivating the alarm. Locating the vehicle. Closing the windows. Activating the vehicle's electronic immobiliser.