DS 3: 12 V battery / Accessory battery / Accessing the battery
DS 3 2016-2023 Owners Manual
The battery is located under the bonnet.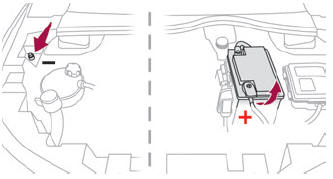 For access to the (+) terminal:
Release the bonnet by pulling the internal release lever, then the external safety catch.
Raise the bonnet.
(+) Positive terminal.
This terminal has a quick-release clamp.
(-) Negative terminal.
As the battery's negative terminal is not accessible, a remote earth point is located facing the battery.

Vehicles equipped with DS MATRIX LED VISION headlamps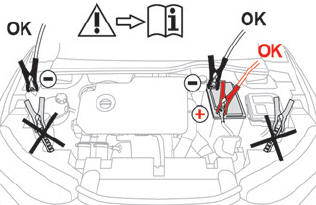 Never connect jump leads to the metal part on the back of the headlamps.
Risk of destruction of the headlamps!
Procedure for starting the engine using another battery or for charging a discharged battery. Lead-acid starter batteries These batteries contain harmful substances (sulphuric acid and lead)...
If the vehicle's battery is flat, the engine can be started using a backup battery (either external or from another vehicle) and jump leads or using a battery booster...
Other information:
GPS navigation - Applications - Multimedia audio system - Bluetooth® telephone The functions and settings described vary according to the vehicle version and configuration, as well as the country of sale. For safety reasons and because they require sustained attention by the driver, the following operations must be carried out with the vehicle stationary and the ignition on: Pairing ..
Press Settings to display the main page. Press the "OPTIONS" button to access the secondary page. Select "System configuration". Select the "Private mode" tab. OR Press "Notifications". Press "Private mode". THEN Activate or deactivate: "No data sharing except for company vehicles". "Only data sharing" "Sharing data and vehicle position" ..
Categories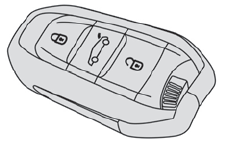 The remote control can be used for the following remote functions, depending on version:
Unlocking/Locking/Deadlocking the vehicle. Unlocking/Locking the boot. Folding/Unfolding the door mirrors. Folding/Unfolding the exterior door handles. Activating/Deactivating the alarm. Locating the vehicle. Closing the windows. Activating the vehicle's electronic immobiliser.