DS 3: In the event of a breakdown / 12 V battery / Accessory battery
DS 3 2016-2023 Owners Manual
Procedure for starting the engine using another battery or for charging a discharged battery.
Lead-acid starter batteries

These batteries contain harmful substances (sulphuric acid and lead).
They must be disposed of in accordance with regulations and must never under any circumstances be discarded with household waste.
Take used remote control batteries and vehicle batteries to a special collection point.

Protect your eyes and face before handling the battery.
All operations on the battery must be carried out in a well ventilated area and away from naked flames and sources of sparks, to avoid any risk of explosion or fire.
Wash your hands afterwards.
Electric motor

Flat accessory battery
It is no longer possible to start the motor or recharge the traction battery.

Precautions before working on the accessory battery
Select mode P, switch off the ignition, check that the instrument panel is off and that the vehicle is not plugged in.

Jump-starting another vehicle
Do not use the accessory battery to jumpstart another vehicle or to charge another vehicle's battery.
Categories
These illustrations and descriptions are provided for information only, as the locations of certain elements may vary depending on the version or trim level.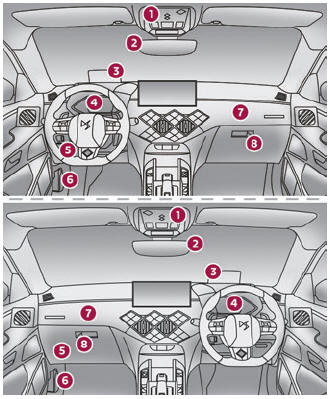 Front courtesy/map reading lamps Emergency and assistance call buttons Warning lamp display for seat belts and front passenger airbag Interior rear view mirror Head-up display Digital instrument panel Fusebox Bonnet release Front passenger airbag Glove box