DS 3: Ease of use and comfort / A/C preconditioning (Electric)
DS 3 2016-2022 Owners Manual
This function allows you to programme the temperature in the passenger compartment to reach a pre-defined, non-modifiable temperature (approx. 21°C) before you enter the vehicle, on the days and at the times of your choice.
This function is available when the vehicle is connected or not connected.
Programming
With DS CONNECT RADIO or DS CONNECT NAV

Programming can be carried out from a smartphone using the MyDS application.
For more information on the Remotely-operable functions, refer to the corresponding section.
With DS CONNECT NAV
In the Climate > OPTIONS menu:

Select Temperature conditioning.
Press + to add a programme.
Select the time of entry into the vehicle and the desired days. Press OK.
Press ON to activate this programme.
The temperature pre-conditioning sequence begins approximately 45 minutes before the programmed time when the vehicle is connected (20 minutes when it is not connected) and is maintained for 10 minutes after.

You can set multiple programmes. Each one is saved in the system.
To optimise the driving range, we recommend starting a programme while the vehicle is connected.
The fan noise that occurs during temperature pre-conditioning is perfectly normal.
Operating conditions
The function is only activated when the ignition is switched off and the vehicle locked.
When the vehicle is not connected, the function is only activated if the battery charge level is greater than 50%.
When the vehicle is not connected and a recurring programme is active (e.g. from Monday to Friday), if two temperature pre-conditioning sequences are run without the vehicle being used, the programme will be deactivated.
Categories
Various visible markings for vehicle identification and vehicle search.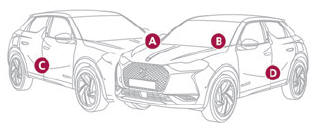 Vehicle Identification Number (VIN), under the bonnet.