DS 3: Instruments / 5-inch touch screen
DS 3 2016-2022 Owners Manual
This system gives access to the following elements:
Audio system and telephone controls and display of related information.
Vehicle function and equipment setting menus.
Air conditioning system controls (depending on version).
For safety reasons, always stop the vehicle before performing operations that require sustained attention.
Some functions are not accessible while driving.
Recommendations
Do not use pointed objects on the touch screen. Do not touch the touch screen with wet hands. Use a soft, clean cloth to clean the touch screen.
Main controls

With the ignition off: system start-up

With the engine running: mute

Left knob: volume adjustment (rotation)/ direct access to the Media menu (press)
Right knob: air flow adjustment (rotation)/direct access to the Climate menu (press)
Access to menus
Return to the previous screen or confirm

After a few moments with no action on the second page, the first page is displayed automatically.
Menus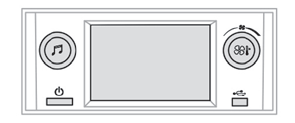 Radio

Media

Climate
Settings for temperature, air flow, etc. For more information on Manual air conditioning, refer to the corresponding section.

Telephone

Driving
Activation, deactivation and settings for certain functions.

Settings
Main system settings.

For more information about the menus, refer to the sections describing the audio and telematics systems.