DS 3: Navigation / To a recent destination
DS 3 2016-2023 Owners Manual

Press Navigation to display the main page.
Press the "MENU" button to access the secondary page.

Select "My destinations".
Select the "Recent" tab.
Select the address chosen in the list to display the "Guidance criteria".

Press "OK" to start guided navigation.

Select "Position" to see the point of arrival on the map.
Categories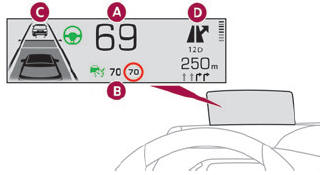 Once the system has been activated, the following information is grouped together in the head-up display:
The speed of the vehicle. Cruise control/speed limiter information and, if the vehicle is so equipped, the Road signs recognition function. If the vehicle is so equipped, inter-vehicle distance information, lane departure warning system information, lane positioning assist information, and automatic emergency braking alerts. If the vehicle is so equipped, navigation information.