DS 3: Indicators / Thermal comfort consumption indicator (Electric)
DS 3 2016-2023 Owners Manual
(Depending on version)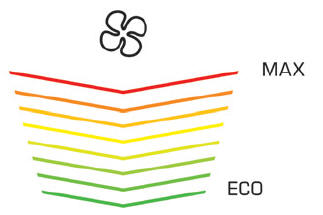 The gauge shows the consumption of the traction battery's electrical energy by the thermal comfort devices in the passenger compartment.
The devices in question are the heating and air conditioning systems.
This equipment can be used:
If the vehicle is not plugged in, when the READY lamp is lit.
If the vehicle is plugged in, when the ignition is switched on ("Lounge" mode).
Selecting ECO mode limits the performance of some of this equipment. The thermal comfort consumption indicator then moves into the "ECO" zone.

To quickly heat or cool the passenger compartment, feel free to temporarily select the maximum heating or cooling setting. Excessive use of thermal comfort equipment, particularly at low speed, can significantly decrease the vehicle's range.
Remember to optimise equipment settings upon achieving the desired level of comfort, and adjust them if necessary whenever you start the vehicle.
After an extended period without using the heating, you may notice a slight odour during the first few minutes of use.
Categories
Various visible markings for vehicle identification and vehicle search.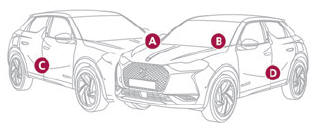 Vehicle Identification Number (VIN), under the bonnet.