DS 3: In the event of a breakdown / Running out of fuel (Diesel)
DS 3 2016-2023 Owners Manual
With Diesel engines, the fuel system must be primed if you run out of fuel.
Before starting to prime the system, it is essential to put at least 5 litres of Diesel into the fuel tank.

For more information on Refuelling and on Misfuel prevention (Diesel), refer to the corresponding section.
Switch on the ignition (without starting the engine).
Wait around 1 minute and switch off the ignition.
Operate the starter motor to start the engine. If the engine does not start at the first attempt, do not keep trying, but restart the procedure.
This reflective and dismantlable device is to be installed on the side of the road when a vehicle is broken down or damaged. Before getting out of the vehicle Turn on the hazard warning lamps, then put on the safety vest to assemble and install the triangle...
Set of tools supplied with the vehicle. Its content depends on your vehicle's equipment: Temporary puncture repair kit. Spare wheel. Access to the tools Depending on version, the tool kit is stored in a bag or in a storage box in the boot...
Other information:
Air intake The air circulating in the passenger compartment is filtered and originates either from the exterior, via the grille located at the base of the windscreen, or from the inside in air recirculation mode. Controls Depending on version, the controls are accessible in the Climate touch screen menu or are grouped together on the centre console panel...
The fusebox is located in the lower dashboard (left-hand side). To access the fuses, follow the same procedure as described for accessing the fuse replacement tools. Fuse tables Box 1 Box 2 ..
Categories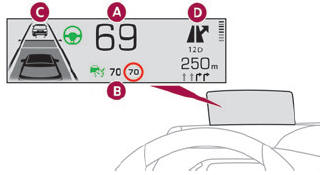 Once the system has been activated, the following information is grouped together in the head-up display:
The speed of the vehicle. Cruise control/speed limiter information and, if the vehicle is so equipped, the Road signs recognition function. If the vehicle is so equipped, inter-vehicle distance information, lane departure warning system information, lane positioning assist information, and automatic emergency braking alerts. If the vehicle is so equipped, navigation information.